The Media Bridge integration is included in the Hubspot + Casted Integration.
Media Bridge + Casted enables users to access their Casted podcasts and videos within HubSpot to then easily embed them into emails, blog posts, and landing pages The integration helps marketers understand how their content is driving traffic, impacting the buyer's cycle, influencing revenue, and more. Now, with Media Bridge and the CRM integration, the ease of use and combination with HubSpot's contact analytics will help marketers learn more about their audience and make data-driven content strategy decisions.
A Casted module with a folder containing your content will become available within Media Bridge. Simply search "Casted" and drop in the module for a Casted player.
Select the Casted logo to display the prompt for choosing the file you would like to embed.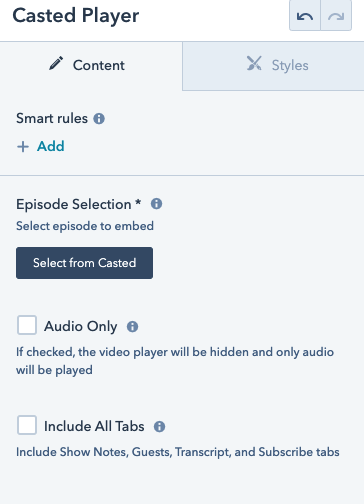 Next, "Select from Casted" will bring you to the folder containing all of your content where you will make your selection.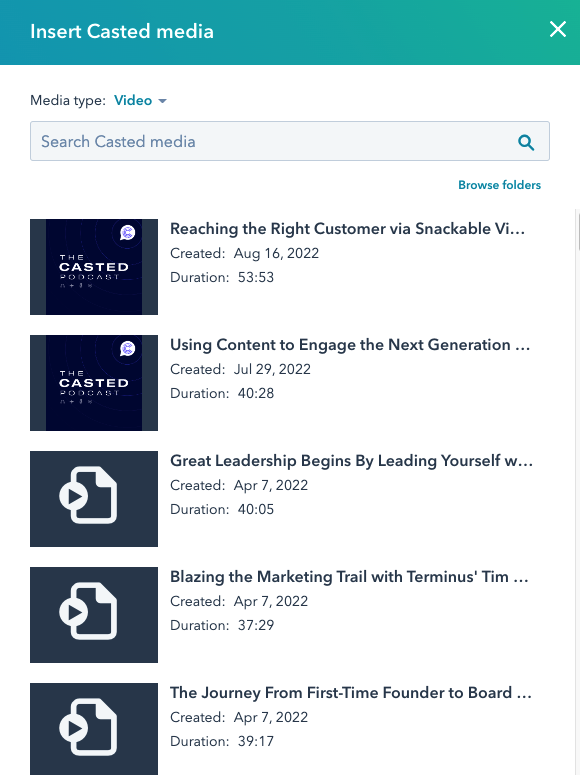 You can then decide if you prefer to embed the audio player only or include all tabs (show notes, guest information, transcription, etc.). When you have decided what you want included in the player, select "Apply Changes" to complete the embed.